Lady Saints Put the Clamps Down on Cloud
Brock Kappelmann - January 29, 2022 7:41 pm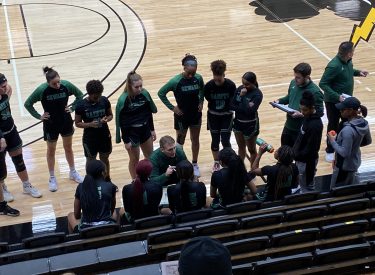 The Seward Lady Saints turned to their defense in an impressive 78-64 win over the Cloud Lady T-Birds Saturday afternoon at Bryant Gymnasium in Concordia.  Seward forced Cloud in 25 turnovers and held Cloud to 33 percent shooting as Seward's defense hassled Cloud into 3-14 shooting in the fourth quarter.
The Lady Saints jumped out to a 14-4 lead.  Cloud claimed a brief 32-31 lead before Seward came back to lead 36-32 at halftime.  Seward led 45-39 before the Lady T-Birds went on a 7-0 run the lead 46-45.  Seward led 56-50 and 59-54 after three.  The Lady Saints raced to a 66-54 lead and won by 14 which was their biggest lead.
Seward had the advantage at the free throw line going 24-31 while Cloud was 14-20.  Sierra Lynch equaled her season high with 25 points and was 14-16 at the foul line.  Lynch also snagged six rebounds. Halima Salat added 12. Miyah Dubose had her highest scoring game since her return and registered 11 points.  D'Arrah Allen had 10.  Jailyn Johnson grabbed six rebounds.
Seward wins their fourth straight at Concordia and 11th in a row against Cloud.  SCCC has won 14 of the past 15 in the series.  Seward wins their sixth in a row and goes to 16-6 overall and 12-4 in the  Jayhawk.  Cloud falls to 10-11 overall and 6-9 in the KJCCC.  Seward plays at Coffeyville Monday night at 5:30 with Saints Shootaround at 5:15 on 107.5 and the KSCB and The Legend App.