Lady Saints Punish Lady Pioneers
Brock Kappelmann - November 9, 2019 5:16 am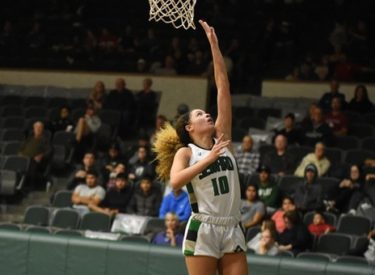 Kenny Hernandez
LIBERAL, Kan. – The sixth-ranked Seward County Community College women's basketball team bolted out to an early lead and never looked back in a 112-56 romp over Western Oklahoma State on Friday at the Greenhouse in the Pepsi Classic. The Lady Saints improved to 3-0 on the season.
The game was over in the first quarter. Seward scored the first seven points of the game on a pair baskets by Vanda Cuamba and free throws from Leilani Augmon and Alanis Hill before Western Oklahoma made its first basket at the 7:55 mark of the first quarter to make the score 7-2. The rout was on after that. The Lady Saints exploded for 20 straight points to open a 27-2 advantage and finished the quarter with a 35-7 lead.
Seward slowed down in the second quarter, but still maintained a comfortable 56-29 margin at the half.
The second half was almost a carbon copy of the first with Seward holding a healthy cushion at 86-50 after three quarters and then turning on the jets again in the final stanza, outscoring Western Oklahoma, 26-6, to provide the 56-point margin of victory.
Tianna Johnson came off the bench to pace five Seward players scoring in double figures with a game-high 23 points. Augmon had 20 points, Cuamba chipped in with 18 points, Hill scored 17 and Karolina Szydlowska netted 14 for the Lady Saints, who despite eclipsing the century mark in scoring, hit only one three-pointer (1-of-9) in the game.
The Lady Saints wrap up the Pepsi Classic with a matchup against Friends University Junior Varsity team at 6 p.m. on Saturday at the Greenhouse.