Lady Saints Press for Success
KSCB News - February 7, 2013 7:16 am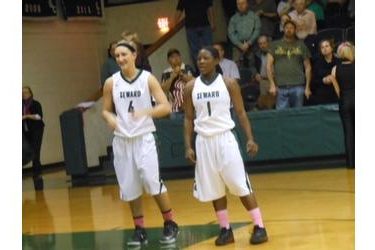 The Lady Saints used a stifling 3/4 court press to hound the struggling Colby Lady Trojans as Seward won 80-46 Wednesday night in the Green House. Colby (6-18, 0-10) committed 29 turnovers and shot 28 percent in their 14 straight loss to Seward.
Seward led 13-10 at the 9:26 mark of the first half when the media timeout hit. Wynn didn't enter the team huddle but let Ricquia Jones and other team leaders talk. It worked as the Lady Saints bolted into their halftime locker room with a 36-13 lead.
Ricquia Jones scored 17 points with six rebounds, five assists, five steals, and just one turnover. Avery Burns scored 16 with five rebounds and six steals. Fabiana Monte added 13 and Shanise Brooks had 10 points and 10 rebounds. Bridget Crandall nailed three 3's for nine points.
Seward is 16-7 overall and 7-3 in the Jayhawk West as they move into a tie with only Garden City for third in the Jayhawk West after Garden shocked #1 Hutchinson in Garden City. Seward plays at Pratt Friday at 4 p.m. on B107.5 and kscbnews.net.
D2#2 Johnson County def Kansas City KS 67-33**
D2#10 Highland def Labette 72-43*
Neosho County def Fort Scott 60-42*
Garden City def DI#1 Hutchinson 64-62 OT*
Seward County def Colby 80-46*
Allen def Independence 47-42*
D1RV Cowley def Coffeyville 60-43*
Cloud County def Pratt 68-48*
Dodge City def Barton 71-68*