Lady Saints Picked to Win 14 Team KJCCC
KSCB News - October 29, 2015 1:16 pm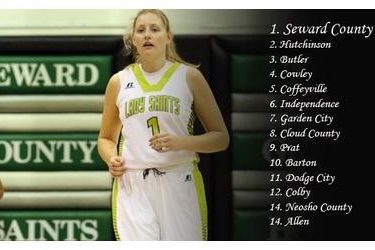 On the heels of a 30 win season and a trip to the NJCAA Sweet 16 in 2014-2015, the Seward County Lady Saints have been picked for another big season in 2015-2016 as the KJCCC coaches have selected them as the top team in the 14 team inaugural Division I Jayhawk Conference.
The Lady Saints return four players from their National Tournament team from a season ago. Seward will rely heavily on sophomores Axelle Bernard and Daniela Galindo who were each named All-Conference selections as freshmen, as well as fellow second year players Leslie Speer and Shania Liggett. The group will be joined by a talented group of rookies this season including four freshmen listed at 6'0 or better, led by 6'7 Joanna Grymek who has had a good preseason camp so far for the Lady Saints.
The normal cast of characters join Seward at the top of the coaches' poll. Hutchinson checks in at #2 after an interesting offseason for the Dragon program, while Butler is picked 3rd and Cowley 4th followed by National Tournament qualifier Coffeyville at #5.
The KJCCC will go away from the traditional East/West schedule this year in favor of a 14 team league with one conference standing. The KJCCC schedule will now feature 19 league games beginning on November 30th.
The Lady Saints begin their run at 2015-2016 this weekend when they travel to Hutchinson to take on Tabor JV and North Central Missouri Friday and Saturday at 1:30 in the Sports Arena. Seward fans will get their first glimpse at the Lady Saints next weekend in the Pizza Hut Classic when the gals in green host Gillette and University of the Southwest Friday and Saturday night at 6:00.
Roy Allen