Lady Saints Outlast Barton
Brock Kappelmann - March 23, 2021 7:20 am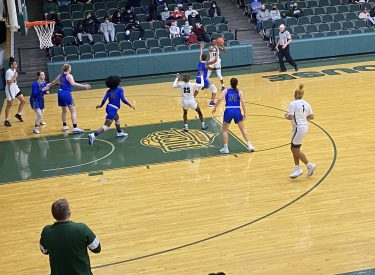 Seward's back in second place after a 73-69 win over the Barton Lady Cougars Monday night in the Green House.  The game featured six ties and five lead changes.
Barton, who led SCCC by as many as 31 a week ago, led 15-9 after a quarter.  Barton's biggest lead came in the second quarter 26-18.  Seward used a 14-2 run into the halftime locker room to lead 32-28 at halftime.  Barton fouled Sierra Morrow on a half court shot and Morrow made 2-3 at the foul line.  The Lady Saints came out strongly in the third quarter taking leads of 41-32 and 47-38.  Barton's 12-0 run gave the Lady Cougars a 50-47 lead after three and a 13-0 run made it 51-47 early in the fourth quarter.  Barton led 62-58 and led 64-62 with 1:46 to play.  Sierra Morrow willed her way to a three point play to give the Lady Saints a 65-64 lead with 1:30 to play.  Barton took a 66-65 lead with 56 seconds left.  Medina Camara banked in a three from the top of the key with about 40 seconds left to give Seward a 68-66 lead.  Seward took a 70-66 lead with 18.5 seconds left before Barton hit a three to cut the lead to 70-69 with 14.1 seconds left.  Sierra Lynch made 3-4 free throws down the stretch for the win.
Seward shot 39 percent from the field and made 7-30 three pointers and 18-23 free throws.  Barton shot 39 percent and made 7-18 three's and 10-18 free throws.  Barton out rebounded SCCC 45-37.  Barton had 15 turnovers and Seward had 14.
Sierra Morrow had 20 points and 12 rebounds.  Sierra Lynch had 17 points, four assists, and one turnover.  Hulda Joaquim had 10 points and five rebounds.
Seward wins their 12th straight home game over Barton.  They haven't lost a home to Barton since 2009.  Seward is 13-5 and Barton is 12-5 so Seward moves back into second place.  Seward plays at Garden City Wednesday night at 5:30 with Saints Shoot-around at 5:15 on 107.5 and kscbnews.net.