Lady Saints Named NJCAA Academic Team of the Year
KSCB News - July 8, 2016 3:22 pm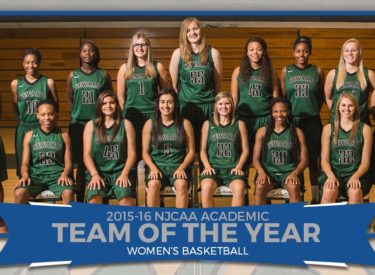 The Seward County Lady Saints Basketball team received the top academic honor that the NJCAA hands out on Wednesday as it was announced by the governing body that the Lady Saints have been named the 2015-2016 NJCAA Academic Team of the Year in Women's Basketball. It marks the second time in Head Coach Toby Wynn's career that the Lady Saints have been bestowed the honor and the sixth time overall.
The Lady Saints posted the top team GPA in the nation, combining for a 3.56 mark after a 25-8 season in which they were ranked inside the top 25 most of the year. They finish just percentage points ahead of Northwest College to claim the title. The Lady Saints recently had 10 players named to the Seward County Athletic Director's Honor Roll, comprised of student-athletes who achieved a 3.0 or better mark for the Spring semester.
Five of the six other Seward County programs found themselves on the NJCAA Honorable Mention Academic Team of the Year list including volleyball, which finished 5th nationally, men's & women's tennis, baseball, and softball.
Roy Allen