Lady Saints Make 4th Straght Region Title Game
Brock Kappelmann - March 4, 2019 6:53 pm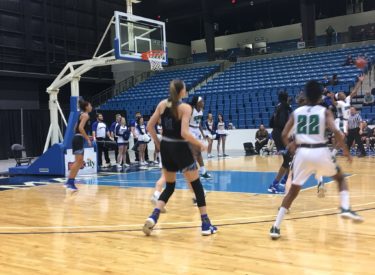 PARK CITY, Kan. – The Seward County Community College women's basketball team withstood a late charge and hung on to beat Barton Community College, 63-58, on Monday to advance to the Region VI championship game. The Lady Saints will play Butler Community College in the finals at 5 p.m. on Wednesday at Hartman Arena.
Carla Covane had 21 points and 12 rebounds and Silvia Veloso added 15 points and five steals for the Lady Saints, who extended their wining streak to 24 games. Kalen Green added 12 points, including three three-pointers, for Seward, which beat Barton for the third time this season.
Veloso and Covane keyed an 11-4 run to start the second half and extend a 34-31 halftime lead into a 45-33 bulge with 4:26 left in the quarter. Veloso had seven points and Covane added four points for all the scoring in the run.
The Lady Saints would lead by as many as 12 in the fourth quarter, but the Cougars went on a 17-8 spurt to close the gap to 61-58 with 20 seconds left in the game. Aquila Mucubaquire hit one of two free throws to open a four-point lead with 19 seconds left and Veloso sealed the victory with a steal and a free throw for Seward, which improved to 31-2 on the season.
The teams battled back and forth in the first two quarters with both teams trading leads. Seward trailed by as many as six in the opening quarter.
Taylor Regan had 14 points and 15 rebounds and Irene Chukwudi added 14 points and 11 rebounds for Barton, which ended its season at 24-10.
Butler is the lone blemish of Seward's conference record this season. The Grizzlies beat the Lady Saints, 65-54, on November 28 in El Dorado, Kansas. It is also the last time Seward has lost.