Lady Saints Lose Lead in Loss at Cloud
Brock Kappelmann - November 18, 2023 8:50 pm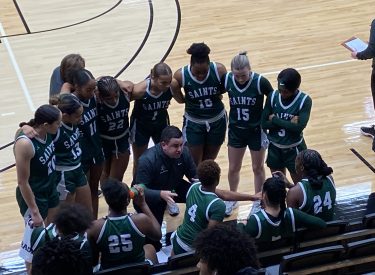 After leading by as many as 13 and dominating the first half, the Seward Lady Saints saw the Cloud Lady T-Birds roar back and defeat SCCC 73-68 Saturday afternoon at Bryant Gymnasium in Concordia.
The Lady Saints came out ready to play jumping to leads of 12-2, 18-6, 20-9, and 22-10 before leading 22-11 after one quarter.  Seward led 26-13, 28-15, and 37-25 before leading 37-27 at halftime.  The Lady T-Birds blistered Seward 25-15 in the third quarter and 46-31 in the second half.  The Lady Saints led briefly in the fourth quarter 54-52.
Seward shot 37 percent from the field while making 4-21 three pointers and 20-30 from the foul line.  Cloud shot 34 percent while going 2-12 from three and 25-35 at the foul line.  Cloud out-rebounded Seward 49-36 while grabbing 20 offensive rebounds.  Cloud led second chance points 18-2.  Both teams had 22 turnovers.
Jamia Carter had 19 points.  Kayla Peoples scored 12.  Ari Gordon and Alianna Colon scored 11 a piece.
Seward is 2-2 and 0-1 in the Jayhawk and Cloud is 5-1 and 1-0.  Seward hosts Cowley Tuesday night at 6pm with Saints Shoot-around at 5:45 on B107.5.  Pizza Hut is the buyout sponsor.