Lady Saints Lose First Opener Since 1991
Brock Kappelmann - November 11, 2022 8:28 pm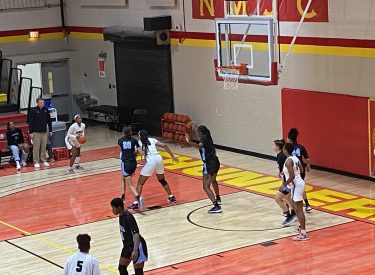 It was bound to end sometime.  After winning 30 consecutive openers, the Seward Lady Saints dropped their opener for the first time since Jim Littell's first game as head coach in 1991.  Odessa (2-1) handed SCCC the opening loss 72-56 Friday night at New Mexico Junior College in Hobbs.
Seward was out rebounded 50-15 as the Wranglers out hustled SCCC on the glass.
Seward led 7-2 early before the Wranglers went on a 14-0 run to lead 16-7.  Odessa led 20-9 and led 24-11 after one quarter.  Seward's best quarter was the second as they out paced Odessa 20-14.  Seward cut the Wrangler lead to 28-24 and trailed at halftime 38-31.  SCCC trailed 38-34 before Odessa's 9-2 run made it 47-36.  Odessa led 59-50 after three.  The Wranglers out scored the Lady Saints 13-6 in the fourth quarter.
In addition to a woeful effort on the boards, Seward committed 21 turnovers but forced Odessa into 24 turnovers.  Seward shot 32 percent and Odessa shot 48 percent.
D'Arrah Allen had 23 points and was the Epic Touch Player of the Game.  Halima Salat added 15.  De'Shawnti Thomas had 11 points.
Saturday, Seward faces #8 New Mexico coached by former Seward coach Austin Mefford Saturday at 3pm central time with Saints Shootaround at 2:45 on B107.5 and The KSCB and The Legend App.