Lady Saints in Way Too Early Rankings
Brock Kappelmann - December 1, 2020 6:10 am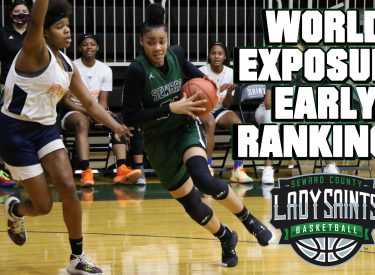 Kenny Hernandez
LIBERAL, Kan.- Seward County Community College Women's Basketball program is recognized by the World Exposure Report's Way-too-Early JUCO D1 Rankings No. 20th in the Nation. Todd Ciochetto entering his first season at the helm and has already spent a very productive semester with the Lady Saints. The team is made up of a core of Sophomores that transferred to Seward with Coach Ciochetto from last year's 32-1 team at Northern Iowa Area Community College. The Trojans entered the 2020 D2 National Tournament as the number one team overall before the tournament was canceled due to the COVID-19 pandemic.
With a very talented and fast team, the Lady Saints will look to be the aggressors on the court and favor a fast pace full-court game. Sierra Morrow is a transfer sophomore forward from NIACC that was named D2 World Exposure freshman of the year for the 2019-20 season. Last season Morrow averaged 15.6 points, 8 rebounds, 4.8 blocks per game, and shot a staggering 49% from the field. This fall Morrow was ranked 21st in the World Exposure's top 2021 JUCO Players nationwide.
The Lady Saints added depth to their line-up with a very fast guard-heavy freshman class that can balance the floor. A couple of notable names from the Lady Saints 2020-21 freshman class to watch will be Miyah Dubose, Kabrea Jamerson, and Delma Zita.
The Lady Saints last season had a 25-7 overall record and it ended with a loss to Butler Community College 70-65 in the Region VI semifinals. Seward was given an automatic bid in the National Tournament and was ranked No. 17th before it was canceled.
With a new chapter, the Lady Saints will look to continue the program's success and will start the 2021 season on January 27th on the road at Allen Community College.
For the full JUCO D1 women's basketball rankings visit JUCO Early Rankings.
For the full list of the top JUCO women's basketball players visit 2021 JUCO Player Rankings.