Lady Saints Improve to 4-0 with Win Over Frank Phillips
Brock Kappelmann - November 12, 2018 5:58 am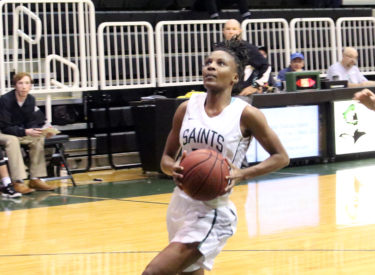 LIBERAL, Kan. – A day after beating the 15th ranked team, the Seward County women's basketball used a full team effort to beat Frank Phillips 66-54, as all 14 Lady Saints earned playing time. The win pushed Seward to 4-0 on the season.
Neither team could get going to start the game, taking over two minutes to put points on the board before Sidney Tinner connected on a pair of free throws. It would be another minute before Frank Phillips would get on the scoreboard. After Seward went up 11-2, the Lady Plainsmen slowly cut into the lead, trailing by just five at the end of the quarter, 17-12.
Frank Phillips hit a three out of the gates to start the second quarter, but Aquila Mucubaquire matched the shot to keep Seward up four points. The Lady Saints pushed the lead to nine with a Veloso layup, but the Plainsmen trimmed the lead again, keeping the lead from reaching double figures. A 5-0 run to end the quarter pushed the lead back to nine for Seward, as they led 32-23.
It took Seward nearly five minutes to score coming out of halftime, while the Lady Plainsmen cut the Seward lead to just two points. Taelor Parker ended the scoring draught with a layup and started a 9-1 run as the Lady Saints took a double-digit lead with a Sidney Tinner and-one. Still leading by 11 points, Lexi Hernandez went on a 5-0 run to end the quarter and put Seward up 52-36.
Tinner and Hernandez combined for the first eight Seward points to begin the fourth, pushing the Lady Saints lead to 22 points. The foot was let off the gas from that point on as Frank Phillips clawed their way back from the significant deficit. They were unable to cut it single digits however, the Lady Saints held on for a 66-54 win.
Seward shot 41.8 percent (28-67) from the floor, but struggled from behind the arc, connecting on just 19.0 percent (4-21) from deep. Frank Phillips was held to 34.5 percent (20-58) from the field and 20.0 percent (4-20) from behind the arc. The Lady Saints forced 23 turnovers including 16 steals.
Hernandez and Veloso led the Seward charge with 16 points each, while Tinner chipped in 12 points. Tinner also led Seward in rebounds, coming two shy of a double-double, finishing with eight.
Seward will travel to Midland, Texas next Thursday (Nov. 15) where they will compete in the Midland College WNIT. The Lady Saints will face No. 17 Salt Lake to open the tournament style play at 1:00 p.m. on Thursday.