Lady Saints Host Garden Party
KSCB News - January 26, 2012 7:21 am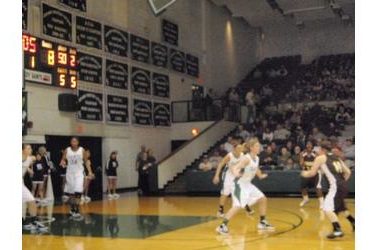 With an electric atmosphere and an estimated 24-hundred people looking on, Seward head coach Toby Wynn says his team put together 40 minutes of intense basketball. Seward handled Garden City 78-59 Wednesday night in the Green House. It's Seward's 10th straight win and 17th in the last 18 tries against Garden City.
Seward came out sizzling in the second half. The Lady Saints were 14-28 from the field and 6-13 from three point range in the second half.
Anete Kirsteine scored 20 with 16 in the second half. Mariah Lee scored 15 and Ashlynn Knoll scored 12.
Southwestern Heights product Deni Jacobs scored 13 for Garden City in the loss. The Lady Busters are 12-9 and 4-3 in the Jayhawk West.
Seward is 17-2 overall and 6-0, tied for first with Hutchinson in the Jayhawk West.
The Lady Saints play at Butler Saturday at 5:30 in El Dorado. Coverage begins at 5:15 on B107.5 and kscbnews.net.
Wed. Jan. 25
D2#5 Highland def Neosho County 66-43*
#16 Indendence def Kansas City KS 43-39*
D2#1 Johnson County def Labette 82-48*
#8 Seward County def Garden City 79-59*
#2 Hutchinson def Pratt 74-45*
Cloud County def Butler 68-48*
Cowley def Allen 98-59*
Barton def Colby 61-58*
Coffeyville def Fort Scott 66-58*