Lady Saints Hope they Started a New Streak
Brock Kappelmann - March 14, 2021 8:56 am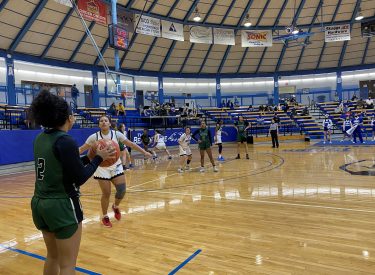 After Pratt's women's basketball team defeated Seward in 2020 ending Seward's 53 game win streak against PCC, Seward hopes they can begin a new streak.  Saturday night in a workmanlike effort, the Lady Saints beat Pratt's Lady Beaver 91-72.  Coach Todd Ciochetto said his team's legs were tired after they have played Hutchinson  Monday, Northwest Tech on Wednesday, went 5 and 1/2 hours to Chanute to play Neosho on Thursday and boarded the bus for a 2 hour 15 minute drive to Pratt on Saturday.
This was tight first half between the Lady Saints and the Lady Beavers as Pratt had won 3 of 5 with the only two losses in that span being at Hutchinson and at Barton.  Seward led 26-21 before leading 26-23 after one quarter.  Seward took their first six point lead at 45-39 and led 46-42 at halftime.  Seward quickly jumped to a 55-42 lead at the 8:22 mark of the third.  SCCC led 70-55 after three.  Seward led by as many as 24 on the way to the win.
Seward forced Pratt into 27 turnovers.  The Lady Saints shot 44 percent and mad 9-26 three points and 22-30 free throws.  Pratt made 41 percent from the field, 4-19 from 3, and 20-28 at the foul line.
Sierra Morrow, the conference's second leading scorer, led Seward with 18 points and nine rebounds.  She had four blocked shots.  Sierra Lynch had 14 points and five rebounds.  Delma Zita had 11.  Sanaa Smith and Sydney Wetlaufer had 10 a piece.
Seward is 10-3 and tied with Barton for second in the Jayhawk West.  Pratt is 4-9.  Seward plays at Barton to break the tie Monday night at 5:30 with Saints Shoot-around at 5:15 on 107.5 and kscbnews.net.