Lady Saints Hold Off NMJC
KSCB News - November 30, 2013 10:46 pm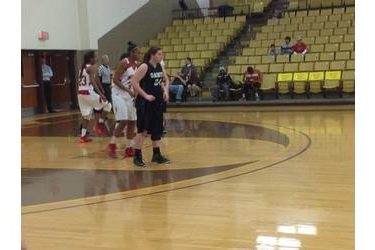 The #19 Seward Lady Saints used their six healthy players to fend off a furious New Mexico Junior College rally as Seward won 69-66 Saturday afternoon in Garden City's Perryman Center. The Lady Saints bolted to a 37-17 halftime lead and led 51-22 with 14:47 to play. But NMJC, who has won two straight WJCAC titles, ripped off an 18-2 run with their full court press to make it 53-40 Seward. The Lady Thunderbirds made the final score a three point game which was the closest they came to the 'Gals in Green'.
Seward sophomore forward Peyton Fleming injured her shoulder in the first half and would not return. Brianna Scott played with a sore Achilles and limped most of the afternoon.
Seward's 28 turnovers and 8-18 shooting at the foul line in the second half hindered their efforts. Seward was 13-24 at the foul line for the afternoon.
Shanise Brooks scored 19 while Korina Chapman contributed 15 points and 11 rebounds. Brianna Scott added 12.
The Lady Saints are 9-0 for the first time since 2009-2010 and NMJC is 7-4.
Seward hosts the Pizza Hut Classic Friday and Saturday at 6 against Mclennan and Labette. Friday's game airs on 107.5 and Saturday's game on 1270.