Lady Saints Hold Off Lady Cougars
Brock Kappelmann - February 16, 2020 9:44 am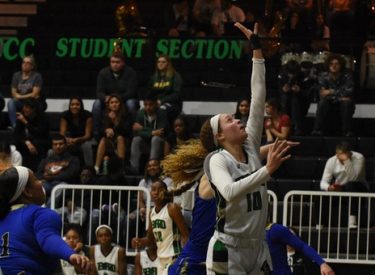 Kenny Hernandez
LIBERAL, Kan. – Tianna Johnson had 16 points and eight rebounds and Karolina Szydlowska chipped in with 13 points and seven rebounds to lead the No. 19 Seward County Community College women's basketball team to a 53-44 win over Barton Community College on Saturday in the regular-season finale at the Greenhouse. The Lady Saints improved to 22-5 overall and 17-2 in the Jayhawk West, tied for first with Hutchinson.
The teams battled back and forth for most of the game. It was not until the fourth quarter when the Lady Saints were able to put away the Cougars. Seward held a 40-36 advantage after three, but Barton kept close and cut the deficit to 40-38 just seconds into the fourth quarter.
The Lady Saints answered with a 7-0 run on a layup and three-pointer by Szydlowska and basket by Johnson to open a 47-38 lead with 7:29 remaining in the game. Seward went on to hold an 11-point advantage before finishing with the nine-point victory.
Seward won despite shooting a dismal 27.5 percent from the field (22-of-80), including 25 percent from three-point range (4-of-16). The Lady Saints did hold Barton to 29.3 percent from the field (17-of-58) and was dominant on the boards with a 56-44 rebounding edge.
Richelle Turney had 11 points and Queen Ulabo scored 10 to pace the Cougars, who fell to 14-14 overall and 10-9 in the Jayhawk West.
The Lady Saints jumped off to a quick start, taking a 12-4 in the first quarter before the Cougars scratched back to close the gap to 14-12 after one. Seward ended the half on a 7-0 run to take a 30-20 lead.
This was the lowest scoring game in the history of the series.  Less  than the 63-37 Barton win over Seward in the 2000 Region 6 championship game in Salina.  Seward now leads the overall series 49-48.  Seward hasn't lost at home to Barton since 2012.
Barton chipped away at the lead, outscoring Seward 16-10 in the third quarter, to get to within four points heading into the final stanza.
The Lady Saints travel to Goodland to play Northwest Tech at 6:30 pm on Wednesday with Saints Shoot-around at 6:15 on 107.5 and kscbnews.net.