Lady Saints Hold Down Cloud
KSCB News - January 11, 2015 8:11 am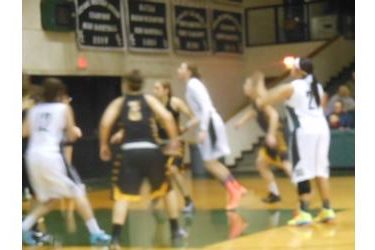 The Seward Lady Saints are 3-0 in the Jayhawk West after a 69-56 win over the Clound County Lady T-Birds Saturday night in the Green House. For the second time this week, Seward struggled shooting the ball in their own gym. Seward shot 35 percent from the field and 4-17 from three point range meaning Seward was 6-37 from three point range this week in two home games against Colby and Cloud. Seward's defense was good again holding Cloud to 34 percent shooting. Seward committed 22 turnovers in the win.
Tamara Seda scored 12 points and pulled down 14 rebounds while Daniela Galindo added 12 and Axelle Bernard added eight points and 10 rebounds. It was Seward's third game is six days and Seward head coach Toby Wynn suggested fatigue could have played a factor in the second half for Seward. The Lady Saints got Kyndal Davis back from sickness and she played 26 minutes.
Seward is 15-1 and 3-0 in the Jayhawk West while Cloud is 7-9 and 0-3 in the Jayhawk West. Seward plays at Barton Monday night at 5:30 with Saints Shootaround at 5:15 on B107.5 and kscbnews.net.