Lady Saints Headed To Lubbock
Joe Denoyer - March 12, 2017 9:03 pm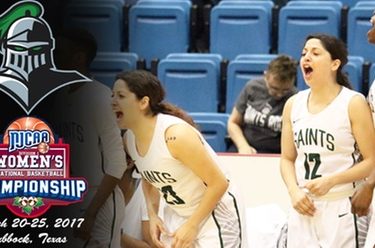 ---
The #4 Seward County Lady Saints will be on their way to Lubbock this time next week after receiving one of eight at-large bids to the NJCAA National Tournament as announced Sunday by the NJCAA.
Seward receives an at-large for the second time in school history after putting together a 31-2 record to this point in the year. The Lady Saints fell just one game short of an automatic qualification, falling to #2 Hutchinson in the NJCAA Region VI Tournament Final Wednesday in Park City. The other seven at-large bids went to #5 Chipola, #6 South Plains, #9 Tallahassee, #11 Harford, #18 Motlow State, #20 San Jacinto, and #21 Tyler.
The Lady Saints have put together an impressive 2017 resume which includes 30 wins over NJCAA Division I squads, 2 wins over top 10 ranked teams (Hutchinson & Shelton State), and 11 wins over teams with 20 or more wins this season. Seward's only two losses of the season have come to #2 Hutchinson.
Now that they know that they are in, the Lady Saints will play a much shorter waiting game as they anticipate their tournament seed and draw which will be announced Monday by the NJCAA.