Lady Saints Handle Hutch
Brock Kappelmann - January 9, 2022 8:38 am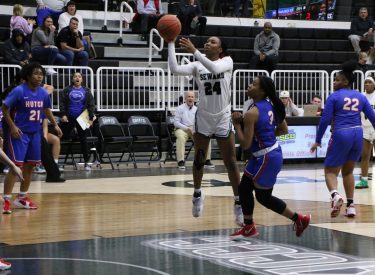 Kenny Hernandez
LIBERAL, Kan. – Seward County Community College's women's basketball team defeats Hutchinson Community College 70-54 on Saturday night. The Lady Saints jumped out to an early 16-1 lead in the first four minutes of action and never let up. Seward County improves to 11-6 on the season and 7-4 in conference play. They will be back in action on Wednesday with tip-off at 5:30 PM at Coffeyville Community College.
To start the game the Lady Saints had a 16-1 lead after a layup by Sierra Lynch with 5:55 left in the first quarter. Hutchinson responded with a 6-0 run to get within nine points, 16-7 at the 4:19 mark. The Lady Saints scored just three points to close out the quarter as they led 19-10 over the Blue Dragons after the first quarter.
In the second quarter, Hutchinson cut the lead down to five points as Seward County had a 19-14 advantage early in the quarter. D'Arrah Allen connected on a floater in the lane to give the Lady Saints a 21-14 lead with six minutes left before halftime. The Blue Dragons connected on a three that brought them within four points but Sierra Lynch responded with a three to extend the lead. At halftime, Seward County led 28-21 and looked in control of the game.
The Lady Saints entered the second half with the same energy they started the game with as they went on a 12-0 run to take a 40-21 advantage over the Blue Dragons. Hutchinson continued to battle but Seward county held a 43-28 lead at the media timeout. Seward County closed the third quarter with a 52-35 lead as their defense continued to cause Hutchinson issues.
With 6:19 left in the contest, Allen knocked down a pair of free throws to give the Lady Saints a 56-42 lead as they remained in control of the game. The Blue Dragons connected on a three to cut the lead down to 10 points 58-48 at the final media timeout. Seward County closed out the final five minutes of action with a 12-6 run to win the game 70-54 over Hutchinson.
Seward County was led by Sierra Lynch with 24 points, three rebounds, and two assists. Allen added 14 points, and Sydney Wetlaufer had 10 points for the Lady Saints.
The Lady Saints will travel to Coffeyville on Wednesday, January 12th to take on the Red Ravens at 5:30 PM CT.