Lady Saints Grind Out Win at Hutch
Brock Kappelmann - February 16, 2022 10:49 pm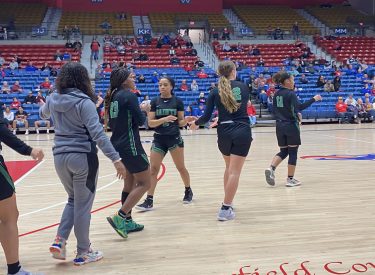 The Seward Lady Saints fought and scratched for a 66-61 win over #20 Hutchinson Wednesday night in the Hutchinson Sports Arena.  Seward held the Lady Dragons to 31 percent shooting.  Neither team led by more than five points.
Seward led 14-13 but a Hutch 6-0 run made it 19-14 Hutchinson after one quarter.  The Lady Dragons led 31-29 at halftime.  Seward grabbed tight leads of. 34-32, 35-33,  and 40-38 before Hutchinson led 46-44 after three.  Seward led 55-54 with 3:18 to play.  Hutch led 57-55.  De'Shawnti Thomas rolled home a pair of free throws to tie the game at 59-59 with 2:12 to play.  Seward led 61-59 with 1:21 remaining after a spin move by Thomas.  Sydney Wetlaufer's free throws gave SCCC a 63-61 lead with 49.7 seconds left.  Hutch did not talley a score for the rest of the game.
Zhane Thompson led the Lady Saints with 17 .  D'Arrah Allen added 14.  Sydney Wetlaufer had 13 points and five rebounds.  Sierra Lynch dropped in 10.  Thomas had six points and 10 rebounds.  Seward only committed 11 turnovers and HCC had 16.
Seward wins at Hutchinson for the first time since 2019.  Seward is 21-8 overall and 17-6 in the Jayhawk.  Hutch sees their 10 game win streak dissipate and falls to 23-5 and 17-5 in the Jayhawk. Seward hosts Coffeyville Saturday night at 6 with Saints Shootaround at 5:45 on 107.5  and the KSCB and The Legend App.  Sharp McQueen PA is the game sponsor.