Lady Saints Grind Out Another Victory
KSCB News - January 10, 2013 7:06 am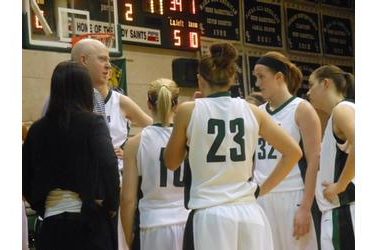 The Lady Saints defense came to the rescue again as Seward overcame another rough shooting night for a 59-52 win over Pratt in the Green House Wednesday night. Seward shot under 35 percent and went 0-19 from three point range but used their defense to win their 44th straight game against Pratt. The Lady Beavers (11-5,0-2) shot under 29 percent from the field.
Fabiana Monte scored 12 points and grabbed five rebounds. Madison McLain addded 11 and Marta Oledzka scored 10. Shanise Brooks pulled down 13 rebounds. Ricquia Jones scored all nine of her points in the closing minutes of the game when Pratt trimmed Seward's lead to two. Jones, Seward's point guard, did not commit a turnover.
Seward led 30-17 at half time and their biggest lead was 15 early in the second half.
The Lady Saints are 12-4 overall and 3-0 in the Jayhawk West. Seward plays at Cloud Saturday night at 6 p.m on B107.5 and kscbnews.net.
D1#1 Hutchinson def Butler 58-45
D1#10 Garden City def Barton 62-44*
Dodge City def Colby 64-63*