Lady Saints Go South at Northwest Tech
Brock Kappelmann - February 17, 2023 12:17 am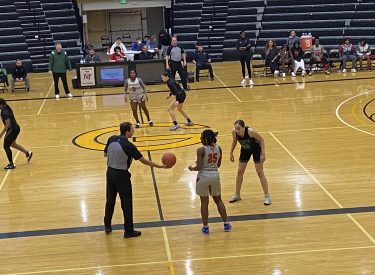 The Seward Lady Saints didn't do much right in an 80-63 loss to Northwest Tech Thursday night in Goodland.  Seward shot 26 percent and committed 34 turnovers while falling behind by 39 in the program's first ever loss to Northwest Tech.
Seward fell behind 20-12 after one quarter.  Northwest Tech raced into their halftime lockeroom with a 43-15 lead over the lackluster Lady Saints.  The Lady Mavericks led 57-18 for the 39 point lead.  It was 64-43 at the end of three.  Sewareed cut the lead to 15 after trailing by 39.
Both teams rattled the ball all over Max Jones Field House as SCCC committed 34 turnovers and Northwest Tech had 27 turnovers.  The Lady Saints shot 26 percent and made 8-33 from three point range and 21-30 from the foul line.  The Lady Mavericks shot 44 percent from the field and were 7-14 from three point range.  They were 19-37 from the free throw line.  Northwest Tech out rebounded Seward 47-40.
De'Shawnti Thomas scored 17 and D'Arrah Allen had 16.  Halima Salat scored 15 but fouled out.  Ariana Escalante had five points and nine rebounds to be Epic Touch Player of the Game.
Seward is 14-13 and 12-9 in the Jayhawk Conference.  Northwest Tech is 15-12 overall and 6-14 in the KJCCC.  Seward is now 10-1 vs. Northwest Tech.  Seward plays at Barton Saturday at 2pm on 107.5 with Saints Shoot-around at 1:45.