Lady Saints Go Cold Late in Loss
Brock Kappelmann - January 12, 2023 7:10 am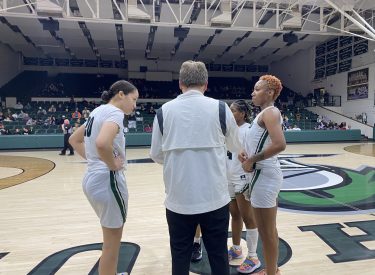 The Seward Lady Saints have dropped five of their last six games after a 67-53 home loss to the Coffeyville Lady Ravens on Wednesday night in the Green House in Liberal.  Coffeyville out scored Seward 24-12 in the fourth quarter.  Seward shot just 27 percent for the night and 17 percent in the second half.
This was a tight game throughout the first three quarters.  The game was tied 16-16 after three.  Seward led 23-18 early in the second quarter and it was 29-29 at halftime.  The Lady Ravens led 38-34 in the third quarter and led 43-41 after three.  Coffeyville heated up from three point range in the fourth quarter.
Seward shot just 27 percent and went 3-22 from three point range and 18-22 at the foul line.  Coffeyville shot 38 percent and went 10-27 from three and 15-26 at the free throw line.
De'Shawnti Thomas scored 20 points and grabbed five rebounds.  Tiana Winn had 10 points and 12 rebounds.
Seward falls to 9-9 overall and 7-5 in the KJCCC.  Coffeyville wins at Seward for the second straight year and second time ever.  They are 11-6 overall and 7-4 in the Jayhawk.  Seward has the bye this Saturday and plays Wednesday at home with Pratt at 6pm on B107.5.  The Community Bank is the buyout sponsor.  The Lady Saints will be featured during the Southern Pioneer Electric Green Line Show Thursday night at 6pm in Billy's on 1270 and 92.3.