Lady Saints Give San Jacinto at Second Thought
KSCB News - November 25, 2013 7:20 am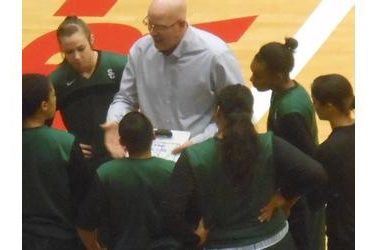 After a sluggish and foul plagued first half, the Seward Lady Saints exploded in the second half. Seward outscored the San Jacinto Lady Gators (1-6) 58-23 in the second half of a 105-64 win Saturday afternoon in the Hutchinson Sports Arena. Seward led just 47-41 at the half with foul trouble for post players Shanise Brooks and Korina Chapman.
Seward registered 19 second half assists and 25 for the game as they improve to 7-0. Brianna Scott poured in 27 points with six rebounds while Kyndal Davis had 19 points and 13 rebounds. Shanise Brooks had 13 points and eight rebounds. Alana Simon added 11 points while Janel Tammen had 11 points and eight rebounds. Fabiana Monte had 10 and Peyton Fleming had nine points and 10 rebounds.
The #19 Lady Saints forced 31 turnovers and held the Lady Gators to 25 percent shooting.
The Lady Saints face Lamar Friday at 1:30 in Garden City on 1270 and kscbnews.net. Seward plays New Mexico Saturday at 1:30 on B107.5 and kscbnews.net.