Lady Saints Foiled at the Foul Line in Hutchinson
Brock Kappelmann - January 8, 2023 9:54 am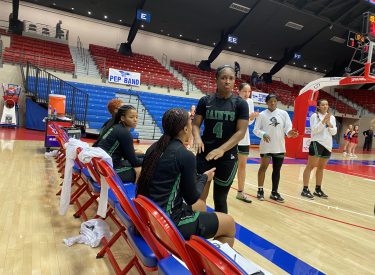 The difference in the game was at the free throw line.  The Hutchinson Lady Dragons were 30-44 at the free throw line and Seward was 13-19 Saturday night at Hutchinson defeated Seward 82-76 Saturday night in the Hutchinson Sports Arena.  Seward drops their second straight game.
The Lady Saints came out ready to play and led 7-1 but the game was tied 15-15 after one quarter.  The Lady Dragons took a 33-24 lead before Seward rallied to trail 39-38 at halftime.  Seward led much of the third quarter at 46-45 with 6:23 to go in the third, 50-48, 58-55 with 20 seconds left in the quarter, and 58-57 after three.  The Lady Saints led 62-59 with 6:15 to play Hutchinson used runs of 10-2 and 13-4 to lead 69-62 and 72-66.
Hutchinson out rebounded Seward 45-35.  Both teams shot 40 percent from the field.  Seward was 9-23 from three and Hutch was 6-27.  Hutchinson led second chance points 16-7.
D'Arrah Allen scored 27 while De'Shawnti Thomas had 18 points and seven rebounds.  Kylee Hunt scored 10.
Seward is 9-8 and 7-4 in the Jayhawk.  Hutchinson is 13-4 and 7-4 in the Jayhawk.  Seward hosts Coffeyville Wednesday night at 6pm with Saints Shoot-around at 5:45 on 107.5.  National Beef is the buyout sponsor.