Lady Saints Foil Friends JV
Brock Kappelmann - November 10, 2019 10:06 am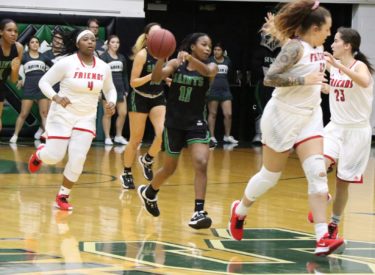 Kenny Hernandez
LIBERAL, Kan. — The sixth-ranked Seward County Community College women's basketball team wrapped up the Pepsi Classic with a 104-64 victory over Friends University JV on Saturday at the Greenhouse. The Lady Saints improved to 4-0 on the season.
The Lady Saints started slow, scoring only four points, all from the free-throw line, in the first five minutes of the game. Seward trailed 9-6 with 4:24 left in the first quarter before ending the stanza with a 12-2 run to go ahead, 18-11, after one.
In the second quarter, the Lady Saints did what they do best with fast break points and defensive deflections, concluding the quarter on a 23-7 spurt and take a 53-24 lead at the half.
With a 29-point lead heading into the third quarter, the Lady Saints proceeded to take time off of the clock and keep the game out of reach for the Falcons.
The Lady Saints were led by the inside presence of Vanda Cuamba with a career-high 29 points on 11-of-15 shooting from the field and Leilani Augmon with 18 points and 11 rebounds for her first career double-double.
Seward is idle until Thursday, November 21 when it plays at 7 p.m. at Midland College.