Lady Saints Finish in Top 13 at NJCAA Tournament
KSCB News - May 12, 2011 1:48 pm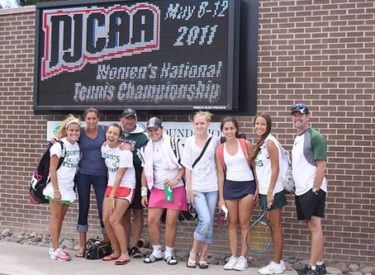 After a big day one of the NJCAA National Tournament,
the Seward County Lady Saints finish their 2011 trip to Tucson in 12th
place out of 31 teams overall. The Lady Saints sat in 2nd place after
the first day of the tournament as they were a perfect 6-0 in singles
play and 2-1 in doubles action. As the road got substantially stronger
on the second day in Tucson, Seward fought hard but went winless in 6
singles matches and won just 1 of 3 tries in doubles matches. The lone
remaining team on the third day of the tournament was Marcela Abrantes
and Lindy Kowalchuk who fell 6-0, 6-1 in the quarterfinals of the #3
doubles bracket but finish the tournament in 5th place after winning the
Region VI Tournament a week earlier. Seward racked up 17 points overall
which puts them in a 12th place tie with region rival Johnson County at
the moment with the only team able to catch the two in the standings
with players still remaining in the tournament being Pima meaning that
the worst the Lady Saints could finish would be in a tie for 13th place
with the Lady Cavs.
In the #1 singles bracket the Lady Saints sent freshman
Dariya Dashutina to do battle with some of the nation's best. Dashutina
earned Seward's first points of the tournament with a 6-1, 6-1 win in
her first match against Central Alabama but fell to 3rd seeded Lee
College in the second round 6-2, 6-3 to finish in 9th place in the
tournament. Fanny Benincasa made her return trip to the tournament in
the #2 singles slot this season and was a 6-0, 6-0 winner in the first
round against Harford CC but dropped a 6-3, 6-2 battle to 6th seeded
Eastern Arizona in the second round to finish 9th as well. Kauana
Goncalves was the Lady Saints #3 player in the tournament and got off to
a good start in the first round with a 6-1, 6-0 win over Rend Lake
College to advance to the round of 16. In the second round she ran up
against a tough draw in 2nd seeded Lee College and fell 6-0, 6-3 to end
her tournament in 9th place. In #4 singles it was Salitza Abrantes
winning her first round match over Itawamba CC 6-4, 6-1 before matching
up with 5th seeded St. Petersburg College in the second round in which
she lost 6-1, 6-3 to finish 9th. Marcela Abrantes had Seward's best
showing in singles of the tournament as she won her first match of the
#5 singles draw swiftly 6-1, 6-0 over Muskegon CC and put up a valiant
effort in her second round match against St. Petersburg before
eventually losing 6-2, 3-6, 6-4 to end up in 9th place. #6 singles
Region VI Champion Lindy Kowalchuk was also a first round winner for
Seward on day one as the knocked off Itawamba CC 6-3, 6-1 in the first
round before dropping her second round decision 6-0, 6-0 to top seeded
Tyler to finish her Lady Saints career in 9th place.
Benincasa and Dashutina also got things off on the right
foot in doubles play where they won their #1 doubles bracket first round
match 6-2, 3-6, 7-6 (5) over Pima in a win that as the tournament comes
to a close could have secure Seward 12th place with Pima 1 point behind
them in the standings. In the second round the duo would square off
with 8th seeded New Mexico Military and they would go down in a tough
battle 6-3, 6-4 to end their tournament in 9th place. Goncalves and S.
Abrantes had a tough time in #2 doubles as they dropped their first
round match 6-0, 6-0 to Eastern Arizona before facing the tough fortune
of taking on 5th seeded Abraham Baldwin in the consolation quarterfinals
in which they fell 8-3. M. Abrantes and Kowalchuk were the big winners
on the week for the Lady Saints as the two were seeded 7th of the 32
teams in Tucson and wouldn't disappoint. They won their first round
match 6-2, 6-1 over Muskegon CC and then became the first Seward County
players to reach the round of eight with a 6-3, 5-7, 6-4 win over New
Mexico Military in the second round. In the quarterfinals they fell
6-0, 6-1 to 2nd seeded Lee College but finished the tournament in 5th
place.
The Lady Saints wrap up their trip to the southwest 6-6
in singles action and 3-4 in doubles play. To find out whether the Lady
Saints finish 12th or 13th CLICK HERE
<http://tennislink.usta.com/tournaments/TournamentHome/Tournament.aspx?T
=100987> later in the week as final tournament results are posted.