Lady Saints Fall in Final Four
Joe Denoyer - November 17, 2018 1:07 am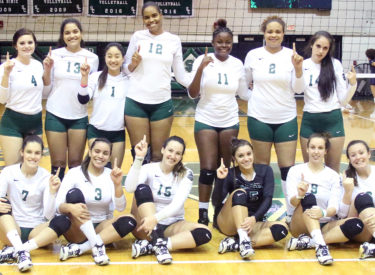 HUTCHINSON, Kan. – The championship run came to an end Friday night for the Seward County volleyball team, falling in the NJCAA National Tournament Final Four to the College of Southern Idaho 3-1 (25-18, 23-25, 25-20, 25-22).
Having to use a rotation that hadn't been used all season, the Lady Saints used a methodical offense to slowly put the Golden Eagles away in the first set.  After leading 9-6, Esmadar Tavares came away with back-to-back service aces to push the lead to 11, before Seward scored two more to end a 4-0 run to make it 13-6. Seward's lead increased to seven by the end of the set, as Celenia De Leon and Tapanga Johnson played vital roles in the opening set 25-18 win.
The Golden Eagles got out to a hot start in set two, jumping out to a 6-2 lead and forcing a Seward timeout.  The Lady Saints came out of the timeout, scoring four-straight to tie it at six. A few points later, Luz Sierra gave Seward the lead with a kill to make it 8-7. Southern Idaho stayed in the set, and despite the Seward momentum, retook the lead after a Lady Saint service error to make it 17-16.  Ball handling and service errors prevented either team from putting the other away, but late in the set, the Golden Eagles managed a 4-0 run to win the set 25-23.
Roles were reversed to start set three, as the Lady Saints jumped out to a 6-2 lead this time. The Eagles slowly fought back into the set, eventually tying it at ten points with a 3-0 run, two coming off blocks. Seward kept them from overtaking them for the time being, going on their own 3-0 run, but the Eagles came charging back to take the lead four points later. Southern Idaho continued to pour it on as they went on to win set three 25-20.
After Seward won the first two points of the set, the Eagles went on a 4-0 run to take the lead before Djuly Schmorantz answered with a kill down the heart of the defense. The back-and-forth set continued, but the Lady Saints couldn't seem to get over the hump to take a decisive lead. The teams traded 2-0 runs, but with the scored tied at 17, it was Southern Idaho who managed enough steam keep Seward from tying the match again, ending on a 8-5 run to win 25-22 and win the match 3-1.
Three Lady Saints reached double-digit kills – Djuly Schmorantz (18), Luz Sierra (13) and Esmadar Tavares (12). Schmorantz also led Seward with 34 digs, while Nathiellen Machado finished with 24 and Asia Jhun came away with 19.
The Lady Saints will play for third place Saturday night at 4:30 pm in the Hutchinson Sports Arena against Iowa Western