Lady Saints Fall Flat at Barton
Brock Kappelmann - March 16, 2021 6:34 am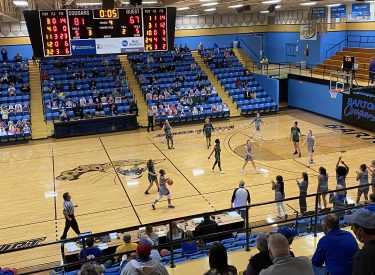 Kenny Hernandez
BARTON, Kan. – Seward County Community College women's basketball team loses at Barton Community College 81-67. The Lady Saints are now 10-4 overall and fall to third in the Jayhawk West behind Barton and Hutchinson Community College. Freshman Hulda Joaquim led Seward County with a season-high 15 points, five rebounds, one assist, and a steal.
Halfway through the first quarter the Lady Saints trailed 11-6 and with a three by Sanaa Smith they were able to get it back to a one-possession game. The Cougars went on an 8-2 run and led 19-11 with less than one minute left in the quarter. The Lady Saints responded with a three by Zhane Thompson to end the quarter.
Barton started the second quarter with an 8-0 run to take a 27-14 lead. Seward County could not get their offense established in the quarter and got stuck on 23 as the Cougars went on a 13-0 run to lead 43-23. This lead was the start of an uphill battle the Lady Saints would face for the remainder of the game. At halftime, Seward County trailed 48-27 and shot just 34 percent from the field.
In the third quarter, the Lady Saints faced their largest deficit of the game with a 63-32 deficit with three minutes left in the quarter. Seward County responded with an 18-2 run to close out the quarter and trailed 65-50 as they entered the fourth quarter. The determination in the Lady Saints to get back into the game was noticeable but the deficit was too great. The Cougars made sure to keep the Lady Saints at arm's length and closed out the game with time management and smart possessions.
Seward County's other top scorers were Zhane Thompson with 14, Sierra Lynch with 13, and Delma Zita added 10 points.
The Lady Saints will be back in the Greenhouse on Wednesday, March 17th to take on Dodge City Community College at 6 pm.  Saints Shoot-around at 5:45 on 107.5 and kscbnews.net.  Tickets at Billy's.