Lady Saints Extend Winning Streak to 19
Brock Kappelmann - February 14, 2019 5:57 am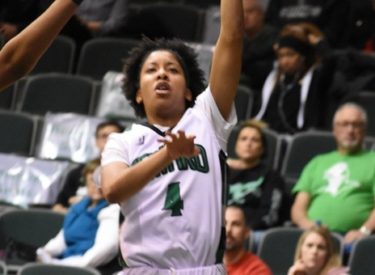 Phil Lee
Carla Covane posted 17 points and 12 rebounds for a team-leading, seventh double-double and Silvia Velosoadded 15 points to send the sixth-ranked Seward County Community College to its 19th straight win with a 65-60 triumph over the Colby Trojans at the Greenhouse.
The Lady Saints remained atop the Jayhawk West, improving to 17-1 and 25-2 overall. The win also extended the team's home winning streak to 48 games, including 40 in a row against Jayhawk Conference opponents.
Vonda Cuamba chipped in with nine points and Kalen Green and Lexi Hernandez each netted seven points for the Lady Saints, who shot 43.9 percent from the field, but struggled from three-point range and the free throw line. Seward hit only three three-pointers on 15 attempts (20 percent) and made only 12 of 21 (57.1 percent) from the charity stripe.
Kaitlyn Guillory led the Trojans with 15 points and 11 rebounds while Nyrobi Pillers added 13 points for Colby fell to 3-14 in the Jayhawk West and 8-17 overall.
The Lady Saints continued their dominance of the Trojans, posting their 26th straight win over Colby. Seward hasn't lost to Colby since the 2005-06 season.
Seward travels to Great Bend to play Barton County on Saturday at 5:30 p.m. The game airs on 107.5 with Saints Shoot-around at 5:15.