Lady Saints Enjoy a Holly Jolly Night in Rout of McCook
Brock Kappelmann - December 17, 2022 6:18 am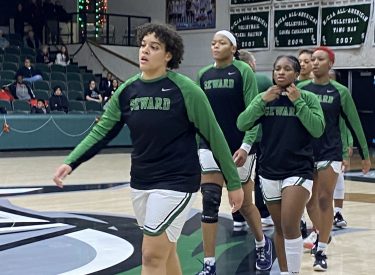 The Lady Saints opened the Seward County Basketball Christmas Classic with an 87-51 win over the McCook Indians Friday night in the Green House.  With Christmas decorations adorning the Green House, the Lady Saints made sure the home fans went home happy on a festive night.  Seward led 49-18 at halftime.
Seward built leads of 18-5 and 22-7 and led 26-11 after one quarter.  Seward led 30-11 and 43-14 before the 49-18 halftime lead.  Seward led 74-37 after three and led by as many as 44 in the blowout win.
Seward held the Indians to 33 percent shooting and forced 23 turnovers.  The Lady Saints out rebounded McCook 52-40.  Seward shot 35 percent from the field, 9-28 for 32 percent from three point range, and 18-23 for 78 percent at the free throw line.  McCook was 5-17 from three and 8-13 at the foul line.
D'Arrah Allen scored 17 points and grabbed six rebounds.  Kylee Hunt and Halima Salat had 14 a piece.  Tiana Winn had 11 points and nine rebounds.  De'Shawnti Thomas scored 10.
Seward has won five in a row and is 8-4 overall and McCook is 3-11.  Seward hosts #6 Trinity Valley Saturday at 4pm with Saints Shoot-around at 3:45 on B107.5.  The Cardinals defeated Redlands Friday afternoon 93-57.  Redlands plays McCook at 2pm Saturday in the Seward County Basketball Christmas Classic present by the Colvin family.  Pepsi is the buyout sponsor and tickets are available at Brickhouse.