Lady Saints Draw Eight Seed at NJCAA Tournament
Brock Kappelmann - March 14, 2017 5:55 am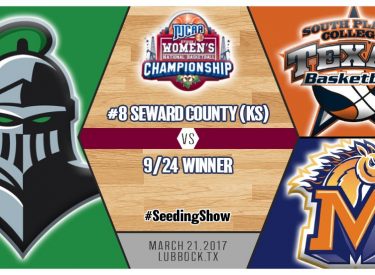 Despite sitting #4 most of the season in the NJCAA Top 25 Poll and losing just two games all season, both to #2 Hutchinson, the Seward County Lady Saints will have to settle for the #8 seed at the NJCAA National Tournament next week in Lubbock, Texas, opening play against the winner of the South Plains/Monroe game on Tuesday at 4:00 pm in the Rip Griffin Center.
Seeding for the tournament was somewhat shocking to say the least as regular season rankings went by the wayside much different from the NCAA's process. Defending National Champs Gulf Coast takes the top spot while Odessa, the top ranked team in the final regular season poll of the season, takes the top spot on the other side of the bracket at #2. Despite losing their District Championship game, Chipola takes the #3 seed while Hutchinson, who hasn't lost since November to Seward, falls to the #4 seed despite a 31 game win streak. Two February losses to unranked teams didn't hurt Salt Lake as they were handed the #5 seed while Trinity Valley shoots up all the way from #12 in the rankings into a #6 seed for the tournament. A 30 point blowout by Gulf Coast didn't hurt a seven loss Tallahassee team as they slide into the #7 spot while 31-2 Seward draws the final first round bye with a #8 seed.
The Lady Saints will get their tournament kicked off on Tuesday at 4:00 when they will take on the winner of the 9 vs. 24 matchup between South Plains and Monroe. The winner of that game is likely to see top ranked Gulf Coast in the semifinals on Thursday.
For a full tournament bracket CLICK HERE<http://static.psbin.com/0/w/8i778lwmp083ju/2016-17_DI_WBB_Champ_-_Bracket.pdf> and for more information on the NJCAA National Tournament in Lubbock next week, stay tuned to SewardSaints.com for updates throughout the week.