Lady Saints Dominate Cloud County
Joe Denoyer - November 21, 2016 11:13 am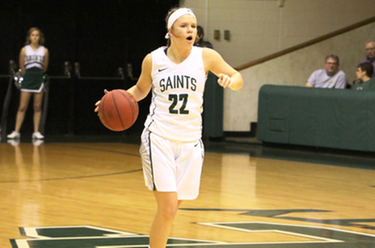 The Seward County Lady Saints got off to another hot start Saturday night in the Greenhouse and never looked back, remaining perfect on the season with a 61-43 win over visiting Cloud County.
In what has been a positive trend for the Lady Saints, Seward came out hot early on against the Thunderbirds, scoring the first seven points of the game to get out to a touchdown lead two minutes in.  The Lady Saints didn't stop there, pounding the ball inside to Joanna Grymek to stretch their lead all the way to 18-5 with four minutes still left in the first quarter.  Cloud scored the next five to cut it back to a single digit game and also scored the final bucket of the period to make it a 22-15 Seward lead after one.
Mollie Mounsey opened the second with her second three of the game and Clitan de Sousa scored moments later to push the Seward lead back to double digits at 27-15.  Another de Sousa hoop made it 29-15 and Seward continued to hold Cloud without a single point until nearly eight minutes into the quarter and took a 34-20 lead into the break at half.
Cloud quickly came out and scored the first five points of the second half to slice the Seward lead to nine, but the Lady Saints then scored 10 straight of their own to blow the lead back open to 19 at 44-25 with 4:29 left in the third quarter.  A late score by Cloud cut two off the Seward lead, but after three quarters of action, the Lady Saints remained comfortably in front 47-31.
Not satisfied yet, the Lady Saints came out in the fourth and got the first four field goals of the period, all in the paint as Grymek scored six and Manuela Fungate pitched in a bucket to all but put the nail in the Thunderbirds' coffin with the score 55-33.  Cloud was never in the game again as Seward cruised to the finish line with a 61-43 win, remaining perfect on the season with the 18 point victory.
Seward shot just under 50% on the night while holding the T-Birds to just 28% and 3 of 19 from deep.  Grymek dominated Cloud on the inside, finishing with her first double-double of the season, scoring a season best 25 and also pulling down a season high 10 boards.  Mounsey finished with 13 points for Seward while Fungate helped out on the glass with a season high nine rebounds.
The 20th ranked Lady Saints improve to 5-0 on the year and 3-0 in Jayhawk Conference play to remain on top of the standings early on.  Cloud loses their second straight to fall to 4-2 overall and 1-2 in conference action.
Seward returns to action Tuesday in the Greenhouse when they host the Barton Cougars in a 6:00 tip. – Roy Allen