Lady Saints Crush Lady Busters
Brock Kappelmann - January 14, 2020 6:01 am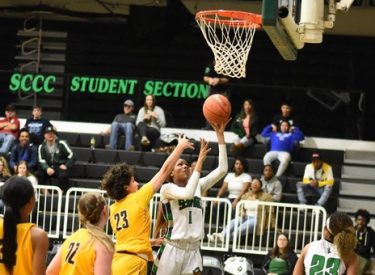 Kenny Hernandez
LIBERAL, Kan. – Vanda Cuamba had 16 points and Leilani Augmon scored 15 to lead the 12th-ranked Lady Saints basketball team to a blowout win over the Garden City Community College Broncbusters, 104-39, on Monday at the Greenhouse. Seward, which has won five straight games and eight of its last nine, is 13-3 overall and remained atop the Jayhawk West at 8-0.
The Lady Saints were off to one of their patented slow start, but luckily so were the Broncbusters. Garden City jumped out to a 2-0 lead on a basket by Deborah Ford four seconds into the game. That was the score for the next three minutes until Karolina Szydlowska finally put Seward on the board at 2-1 when she hit one of free throws at the 7:04 mark.
Tianna Johnson hit a pair of free throws to give the Lady Saints a 3-2 lead with 6:22 left in the quarter. Seward would not give up the lead the rest of the contest, ending the quarter on a 21-3 run with Cuamba leading the way with eight points in the spurt.
The Lady Saints overwhelmed an overmatched Broncbusters team the rest of the way, building a 52-18 advantage at the half. Seward outscored Garden City, 52-21, in the third and fourth quarters to cruise to the win.
Johnson had 13 points, Kamry Perez scored 12, Gina Ballesteros netted 11 and Alanis Hill chipped in with 10 as the Lady Saints had six players in double digits and had every player score.
Seward, which topped the century mark in scoring for the second straight game, shot 52 percent from the field on 36-of-69 shooting. The Lady Saints had a dominant edge on the free-throw line, going 27 times to the stripe while the Broncbusters only went five times.
The Lady Saints forced 34 turnovers, converting them into 43 points, had 50 points in the paint and held the Broncbusters to only 21 percent shooting on 15-of-71 shooting.
Ariyanna Hall and Ford each had 10 points for Garden City, which dropped to 6-10 overall and 1-6 in the Jayhawk West.
Seward continues its stretch of four games in eight days when it hosts Pratt Community College at 6:00 p.m. on Wednesday.