Lady Saints Crush Allen in Opening Round
Brock Kappelmann - February 26, 2020 11:05 pm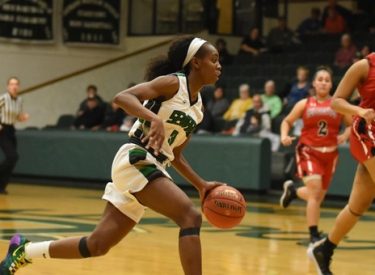 Kenny Hernandez
LIBERAL, Kan. – The 18th-ranked Seward County Community College women's basketball team took care of business in its opening-round Region VI playoff game by dispatching Allen Community College with an easy 113-58 victory on Wednesday at the Greenhouse.
The Lady Saints, who improved to 24-6 overall, advanced to the quarterfinals and will play the Colby Community College Trojans at 7 p.m. in Dodge City. Colby advanced after upsetting Independence in overtime on Wednesday.
Seward started off quick and never trailed in the game, jumping out to 5-0 and 10-3 leads, but Allen kept the game close early with its three-point shooting. The Red Devils cut the deficit to 16-11 with 4:07 left in the first quarter on an Ariel Walker three-pointer, but could get no closer the rest of the way.
The Lady Saints ended the quarter on a 10-2 run and held a 26-13 margin after one. Leilani Augmon and Vanda Cuamba each had four points and Tianna Johnson netted two points to key the run.
Seward scored the first 10 points of the second quarter to see its lead balloon to 23 points at 36-13 with 7:20 remaining. Ayanna Smith and Alanis Hill each scored four points and Karolina Szydlowska had two points during the spurt. The Lady Saints went on to open a 57-32 lead at the half.
The Lady Saints continued to pour it on the second half, outscoring the Red Devils, 31-18 and 25-8, in the third and fourth quarters respectively, en route to the victory.
Every Seward player notched over 10 minutes of playing time and scored at least one point. Kamry Perez had 17 points, including four three-pointers, Hill scored 15 points and Destiny Alston, Augmon and Cuamba each had 12 points for the Lady Saints, who shot a blistering 54.7 percent (47-of-86) from the field. Seward had 33 assists and also held a dominating rebound edge, 63-31.
The score would have been a lot worse if not for Allen's three-point shooting. The Red Devils shot 37.5 percent (12-of-32) from three-point range and only 25.8 percent overall (17-of-66). Walker had a game-high 26 points, including six three-pointers and Maisie Schroeder netted 10 points for Allen, which ended its season at 8-22.