Lady Saints Cruise to Opening Win
Brock Kappelmann - November 2, 2019 1:29 am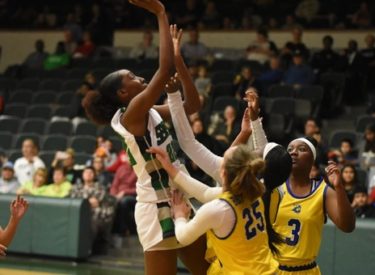 Kenny Hernandez
LIBERAL, Kan. – The sixth-ranked Lady Saints basketball team opened its regular season with an easy 94-41 victory over the Bethany College Junior Varsity team on Friday at the Greenhouse in the opening night of the Pizza Hut Classic.
Leilani Augmon scored 17 points and Karolina Szydlowska netted 16 to lead a balanced attack for Seward, which had four players with double-digit points and 10 players with at least one basket. Kamry Perez had 11 points and Tianna Johnson chipped in with 10 points for Seward. Vonda Cuamba and Ayanna Smith each had nine rebounds for the Lady Saints.
Seward jumped out to a quick 9-2 lead before Bethany battled back and closed the gap to 11-9 with 3:59 left in the first quarter. That would be as close as the Swedes would get as the Lady Saints closed the quarter on an 18-1 run to open a 29-10 lead and blow the game open.
Seward cruised the rest of the way, holding a 54-18 advantage at the half and expanding its margin to 69-29 after three quarters.
The Lady Saints host the Frank Phillips Lady Plainsmen at 6 p.m. on Saturday to conclude the Pizza Hut Classic.