Lady Saints Cruise in Opener
Brock Kappelmann - November 2, 2016 6:18 am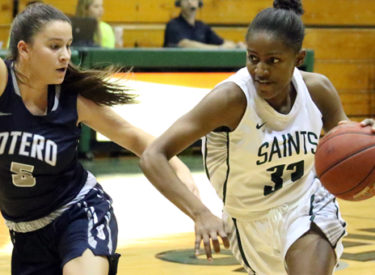 A quick start was all the #20 Seward County Lady Saints needed Tuesday night in their 2016-2017 season opener against the Otero Rattlers as the gals in green scored the first 11 points of the game before cruising to a 72-45 win to secure a victory in their opening game for the 25th straight season.
Seward came out of the gates on fire Tuesday night as Mollie Mounsey scored the first five of the night for the Lady Saints and Joanna Grymek scored the next six to give Seward an 11-0 lead three minutes into the game. Otero finally turned the lights on to play even with the Lady Saints over the next six minutes, but a late first quarter bucket from Neidy Ocuane put Seward up 12 at the break 21-9.
Otero picked up the first basket of the second quarter, but the Lady Saints quickly struck back with the next seven, turning a 10 point lead into a 17 points lead three minutes into the period. Mounsey hit her second three of the half to put Seward on top 33-13 and the Lady Saints eventually went to the half in front of the Rattlers 42-18 to the delight of a solid Tuesday night Greenhouse crowd. The Lady Saints shot 58% in the first half while holding Otero to just 33% shooting. Mounsey led Seward in scoring at the break with a game high 12.
With the game well in hand, the Lady Saints came out of the break strong, pushing their lead all the way to 29 at 51-22 midway through the third quarter after back to back baskets by Clitan de Sousa. However, Seward did not record another field goal in the quarter and Otero scored eight of the final nine points of the period to even up the scoring in the quarter at 12 apiece to make it a 52-30 game after three.
It was a two woman show to begin the fourth quarter as de Sousa and Grymek took turns putting the biscuit in the basket as the Lady Saints took their first 30 point lead of the night at 63-33. A three from Ocuane and a steal and score from Vanessa Caro gave Seward their largest lead of the night at 68-35 and the Lady Saints cruised from there, putting the finishing touches on a 72-45 victory to send the Greenhouse crowd home happy.
Seward shot 42% from the field in the win, holding Otero to just 37% on the night. Four Lady Saints reached double figures including de Sousa who scored a career high 21 and Grymek who added 17.
The Lady Saints win their opener for the 25th straight season and will take a week off before returning home to the Greenhouse to take on Frank Phillips next Tuesday at 6:00.
#20 SEWARD COUNTY/OTERO BOX SCORE<http://www.sewardsaints.com/sports/wbkb/2016-17/boxscores/20161101_ffxi.xml?view=boxscore>
Roy Allen
1770mp3