Lady Saints Cruise in Conference Opener at Allen
KSCB News - December 3, 2015 4:10 pm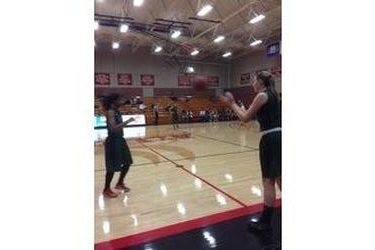 ecember 3, 2015
Taking the court for the first time in 11 days Wednesday on the road in Iola, the 13th ranked Seward County Lady Saints showed no signs of rust, blowing by the Allen Lady Red Devils 88-45 in their 2015-2016 Jayhawk Conference opener.
In a battle of teams picked to finish on opposite ends of the 14 team Jayhawk League standings this season, it was Seward County jumping out in front of Allen early 7-3 behind five quick points from Daniela Galindo as action got underway. Allen scored five straight to take their first lead of the night, but their good fortunes didn't last long as Seward went on an 8-3 run of their own to take a 16-10 lead and didn't relinquish their lead again. The Lady Saints put up nine more points in the final three minutes of the first quarter and after one it was all green and white 25-13.
As the second quarter got going, it was a three from Axelle Bernard to get Seward going, putting the Lady Saints up 33-19 and later on Joanna Grymek flexed her muscles on the inside, scoring in the paint to extend the Lady Saints lead to 46-25 with just over three minutes left in the half. Seward scored the final five points of the second quarter and took a commanding 51-25 lead into the break at half.
Allen had no answer for the potent Seward offense in the first half as the Lady Saints shot 63% from the field as a team, led by Bernard and Grymek on the inside who each finished the half with 12 points.
Another Galindo three early in the third quarter gave the Lady Saints their first 30 point lead of the night at 61-31 and a run out and score from Leslie Speer on the break late in the quarter put Seward County up 73-36 at the end of three.
With the game already in hand and a battle with Cowley looming in just three days, Seward Head Coach Toby Wynn turned to his bench in the fourth quarter and watched them put the Red Devils away 88-45.
It was a balanced attack for the Lady Saints offensively who had four players score in double figures in the win. Grymek led Seward with 16 points while Bernard had 12 points and 9 rebounds in the victory. Samm Ashida came off the Lady Saints bench to score a career high 11.
Seward improves to 8-1 overall with the victory and 1-0 in Jayhawk Conference action. Allen falls to 4-7 on the year and 0-1 to start their league season.
The Lady Saints will hit the road for another test on Saturday when they travel to Arkansas City to take on Cowley in a 5:30 start.
#13 SEWARD COUNTY/ALLEN BOX SCORE<http://www.sewardsaints.com/sports/wbkb/2015-16/boxscores/20151202_99s0.xml>