Lady Saints Continue Dominance of Cloud
Brock Kappelmann - November 30, 2019 7:55 pm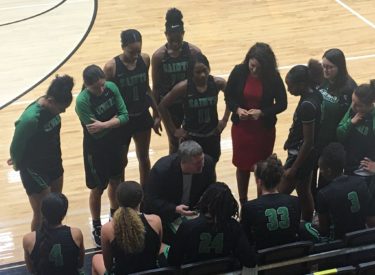 The Seward Lady Saints won for an eighth straight time and eleventh time in the last 12 meeting between the Jayhawk Conference foes.  SCCC won for a third straight time in Concordia as the #17 Lady Saints took it to the Lady T-Birds 82-59 in Bryant Gymnasium.
Seward struggled early trailing 20-13 and trailed 22-21 after one quarter.  Seward our scored Cloud 43-22 in the second and third quarters combined and SCCC led 41-35 at the half.  Seward led 64-44 after three.
Seward out rebounded the Lady T-Birds 59-37.  SCCC shot 43 percent while Cloud shot 34 percent.
Aquila Mucubaquire had 16 while Ayanna Smith had 12 points with 15 rebounds.  Karolina Szydlowska scored all 14 in the first half. Alanis Hill tallied 11 points and grabbed six rebounds.   Vanda Cuamba had 10.
The Lady Saints are 7-2 and 2-0 in the Jayhawk.  Cloud is 6-5 and 1-1 in the Jayhawk.
The Lady Saints host Allen at 6 with Saints Shootaround at 5:45 on 107.5 and kscbnews.net.  Conestoga is the buyout and tickets are also available at Hutch's.