Lady Saints Continue Dominance in the Green House
Brock Kappelmann - December 5, 2019 6:02 am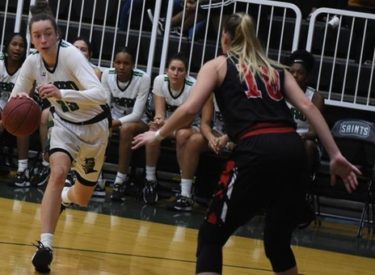 Kenny Hernandez
LIBERAL, Kan. – The 15th-ranked Lady Saints basketball team exploded on an 8-0 run to start the second quarter and romped past the Allen Community College Red Devils, 85-55, on Wednesday at the Greenhouse. Seward improved to 3-0 in the Jayhawk West and 8-2 overall.
Alanis Hill and Karolina Szydlowska each had 14 points to lead the Lady Saints, who extended their home-winning streak to 56 games and regular-season conference winning streak to 23 games.
Tiana Johnson added 10 points for Seward, which had every player score. The Lady Saints shot 39 percent from the field on 33-of-84 shooting while clamping down defensively on the Red Devils, holding them to just 31 percent shooting on 19-of-60 shooting. Seward held a 60-39 edge on the boards and forced Allen to turn over the ball 23 times.
The Red Devils scored the first six points of the game before Lady Saints battled back and knotted the game at nine with 4:59 left. Allen jumped ahead on a 5-0 before Seward closed to within one at 16-15 after one quarter.
The Lady Saints exploded with an 8-0 to start the second quarter and open a 23-16 edge at the 7:27 mark. Szydlowska had four points, Johnson had two points and Aquila Mucubaquire added two points to pace Seward in the run.
The Lady Saints continued to pour it on and outscored the Red Devils, 29-10, in the second quarter and held a 44-26 lead at the half. Seward cruised in the second half, opening a 65-40 advantage after three before coasting to the victory.
Seward heads to the road and plays No. 2 South Plains on at 5:45 p.m. on Friday in a non-conference matchup. The teams played twice last season with the Lady Saints coming away with the win at home early in the season, but losing in the first round of the NJCAA Tournament.