Lady Saints Coast to Win Over Independence
Brock Kappelmann - January 9, 2020 6:05 am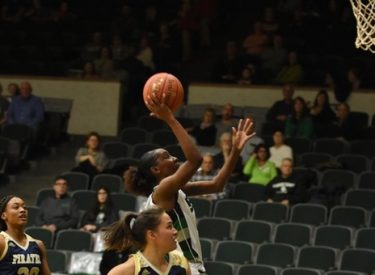 Kenny Hernandez
LIBERAL, Kan. — The 13th-ranked Lady Saints basketball team used a smothering defense to jump out to a fast start and never looked back in a 73-54 romp over the Independence Pirates on Wednesday at the Green House.
Seward, which extended its home-winning streak to 57 games and regular-season conference winning streak to 26 games, improved to 11-3 overall and 6-0 in the Jayhawk West, tied for first with Hutchinson.
The Lady Saints faced a big task in Independence's Brittany Reeves, the 6-5 center from Macon, Georgia, who entered the game averaging 21.2 points on 54 percent shooting, 14.6 rebounds and 1.9 blocks.
Seward jumped all over Reeves and the Pirates to start the game. Vanda Cuamba opened the scoring with a hook shot, Karolina Szydlowska nailed a three-pointer, Leilani Augmon added a trey and Szydlowska added a jumper to give the Lady Saints a 10-0 lead with 6:45 left in the first quarter.
Reeves finally got Independence on the board with a bucket, but that would be her only two points of the quarter. Seward continued to pour it with on another 10-0 run to take a 22-2 lead and finish the quarter with a 22-5 advantage.
The Pirates started the second quarter with a 6-0 burst to cut the deficit to 22-11 with 6:33 remaining, but the Lady Saints answered back with an 8-2 run on a pair of treys by Kamry Perez and Wiktoria Kazimierowicz and an Alanis Hill basket to hold a 30-13 advantage with 4:17 remaining. Seward had a 37-13 lead at the half and cruised the rest of the contest.
Augmon had 15 points, Szydlowska added 12 points and 11 rebounds and Tianna Johnson scored 11 for Seward, which committed only 17 turnovers. It was a collective effort from the Lady Saints on offense with 10 players scoring.
Seward held Independence to 33 percent on 17-of-51 shooting, including a dismal 3-of-21 from three-point range. The Lady Saints also forced 32 turnovers. Reeves was held to a quiet 22 points and 16 rebounds, only four on the offensive boards.
The Lady Saints have a stretch of four games in eight days beginning with a trip at Neosho County Community College at 5:30 p.m. on Saturday. Saints Shoot-around at 5:15 on 107.5 and kscbnews.net.