Lady Saints Clobber Cowley
Brock Kappelmann - February 12, 2023 10:16 am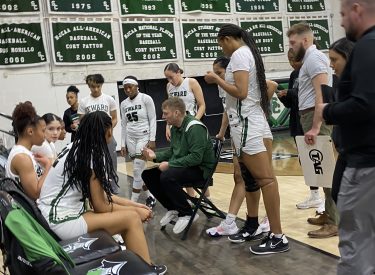 The Seward Lady Saints hit 18 three pointers on their way to an 80-53 win over the Cowley Lady Tigers Saturday afternoon in the Green House.  Seward was 18-33 from three as Allianna Colon made seven three pointers on the way to a 21 point game.
The Lady Saints led 15-11 after one quarter.  Seward led 24-16 and 34-21 in the second quarter before a Cowley 7-0 run made it 34-28 at halftime. Seward scored at a dizzying pace in the third quarter out pacing the Lady Tigers 32-17.  SCCC led 66-45 after three.
Seward shot 50 percent from the field and made 2-6 free throws.  Cowley shot 30 percent while enduring a 4-30 showing from three.  Cowley was 15-19 from the foul line.
Colon scored 21 on 7-12 shooting from three point range.  Halima Salat scored 14.  De'Shawnti Thomas had 10 points, eight assists, and six rebounds.
Seward is 14-12 overall and 12-8 in the Jayhawk.  Cowley is 12-13 overall and 7-12 in the KJCCC.  Seward plays in Goodland against Northwest Tech Wednesday night at 6:30 central time with Saints Shoot-around at 6:15 on 107.5.