Lady Saints Clobber Colby
KSCB News - February 16, 2016 7:04 am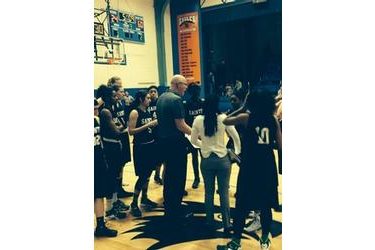 Seward didn't mess around with Colby. The Lady Saints went inside to Joanna Grymek early and often to put the game away early as Seward coasted to an 81-39 win over Colby in the Community Building. Seward built a 31-10 lead after one quarter as Grymek scored 16 of her 19 in the first quarter.
The Lady Saints led 50-16 at halftime. Seward was able to use their bench for most of the second half to rest the starters for Wednesday's game at Garden City. Grymek had 19 points and nine rebounds while Samm Ashida had a career high 12 and Clitan De Sousa had 11. Shania Liggett scored a career high of six and Alex Tyson had a career high five.
The Lady Saints held Colby to 21 percent shooting. Seward wins their 19th straight game over Colby and 10th straight at Colby. Seward is 19-7 overall and 11-5 in the Jayhawk while Colby loses for the 19th consecutive time and is 4-24 and 0-17. Seward plays at Garden City Wednesday night at 6 on 107.5 and kscbnews.net with Saints Shootaround at 5:45.