Lady Saints Capture Jayhawk Win Number 20
Brock Kappelmann - February 12, 2017 8:47 am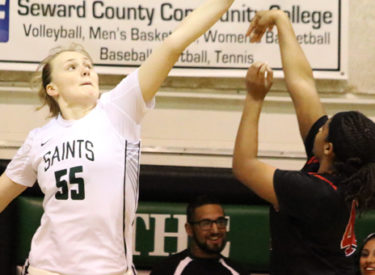 The Seward County Lady Saints continued their roll through Jayhawk Conference play Saturday night in the Greenhouse, downing visiting Allen 78-59 to earn their 20th conference victory of the season.
Seward got out to a hot start in front of their home crowd, jumping out to an 8-0 lead on the Lady Red Devils to get things going. Allen fought back though, trimming the Seward lead to five at 15-10 before the Lady Saints pushed their advantage back to seven before the end of the first quarter at 19-12.
The Lady Saints couldn't keep things flowing as Allen closed back to within four at 23-19 midway through the second, but back to back threes from Brennyn Seagler and Mollie Mounsey pushed the lead back to nine moments later at 36-27. Seward got one more bucket before the break to take a 38-27 lead into the locker rooms at half.
With the Greenhouse subdued, the Lady Saints were unable to create much momentum of their own as the second half got underway. Allen closed it to a two possession game midway through the period before Seward stretched it back to an eight point game at the end of the period at 55-47.
Finally the Lady Saints found some continuity in the final quarter, stretching their lead double digits and then 15 midway through on a bucket from Joanna Grymek inside. A pair of late threes from Mounsey put the nail in the Devils coffin and Seward went on to win 78-59 to collect their 20th Jayhawk Conference win of the year.
It was a win and move on game for Seward as they shot just 41% from the field on the night and turned the ball over an uncharacteristic 19 times. Grymek led the Lady Saints with a 23 point, 11 rebound double-double while Mounsey added 20 for the gals in green. Manuela Fungate continued her presence on the boards, recording her fourth straight double figure rebounding effort with 13.
Seward wins their seventh straight to improve to 24-1 overall and 20-1 in Jayhawk Conference play on the year while Allen drops to 7-18 overall and 6-15 in league play.
Next up for the Lady Saints is another long midweek road trip to Southeast Kansas as they make the trek to Chanute to take on the Neosho County Panthers in a 5:30 tip on Wednesday.
#6 SEWARD COUNTY/ALLEN BOX SCORE<http://www.sewardsaints.com/sports/wbkb/2016-17/boxscores/20170211_6tgv.xml>
Roy Allen