Lady Saints Camps Open for Registration
Brock Kappelmann - June 1, 2021 4:47 pm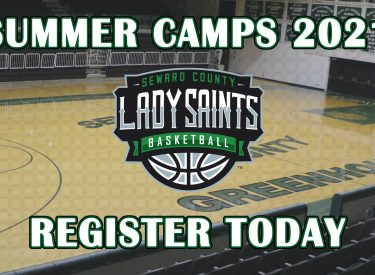 Kenny Hernandez
LIBERAL, Kan. – Seward County Community College will host women's basketball camps this summer in the Greenhouse. There will be an individual camp that will start on June 14th and a team camp will start on July 5th. The Lady Saints coaches and current student-athletes will be present to help assist participants in drills and skill development.
The individual skills camp will provide drills to help improve players' offensive and defensive skill sets. The camp will go from June 14th-17th and the first session will be for K-3rd graders from 9 AM-11 AM. The second session will start at 1 PM and end at 3 PM with the 4th to the 6th-grade group. The high school camp will start on June 21st-24th and will be for those in 7th grade to seniors in high school. This camp will be two days with the morning session from 9:30 AM – 11:30 AM and an afternoon session from 1 PM-3 PM.
The team camp will start on July 5th-8th with each team guaranteed five games. Each player will need to sign a player release form and as a team will need to pay a $300 entry fee. These teams will be varsity or JV skill level and will compete in the Greenhouse at Seward County.
To register fill out the forms and return them to Coach Todd Ciochetto or the athletic department. For more information follow the link below.