Lady Saints Blow Out Pratt
Brock Kappelmann - January 16, 2020 6:15 am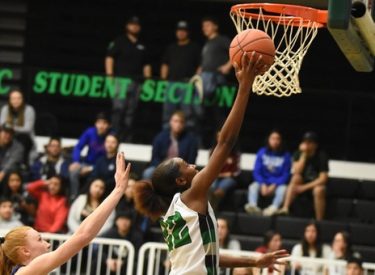 Kenny Hernandez
LIBERAL, Kan. – The 12th-ranked Seward County Community College women's basketball team posted a 68-42 victory over Pratt Community College on Wednesday at the Greenhouse to extend its winning streak to six games.
The Lady Saints, who are 14-3 overall and remained atop the Jayhawk West at 8-0, continued their dominance at home, winning for the 59th straight time at the Greenhouse. Seward also has a 32-game, regular-season conference winning streak.
Leilani Augmon had 15 points and seven rebounds and Destiny Alston came off the bench to add 11 points and six rebounds for the Lady Saints, who had 10 players contribute in the scoring column.
Seward once again played stifling defense, holding Pratt without a double-digit scorer. The Beavers were held to just 18 percent in the first half and 25 percent for the game.
Jordan Mathis, Pratt's leading scorer, came into the contest averaging 10.6 points, but was held to just two points. Rylee Alexander and Janell Douvier, Pratt's other leading scorers, were held to eight points and three points, respectively. Alexander's eight points were tops for the Beavers.
The Lady Saints also continued their strong play on the boards, holding a 57-43 edge.
Pratt jumped out to a 3-0 lead to start the game on an Alexander trey, but that would be the lone lead for the Beavers. The Lady Saints responded with a 12-0 run on five points by Augmon, three by Karolina Szydlowska, and two each by Vanda Cuamba and Aquila Mucubaquire to take a 12-3 lead with 3:52 left in the first quarter. Seward held a 15-6 advantage after one.
Seward opened the second quarter with a 15-5 burst to expand its lead to 30-11 with 6:05 left. The Lady Saints would hold the Beavers to only six points the rest of the half and grab a 44-17 edge heading into the break.
The Lady Saints cooled off in the second half, only scoring 24 points the rest of the way, but were never threatened. Seward shot 44 percent in the first half, 25 percent in the second half and 33 percent for the game.
Seward wraps up its fourth game in eight days when it travels to Dodge City Community College for a 1 p.m. contest on Saturday.