Lady Saints Blow Out Neosho
Brock Kappelmann - April 6, 2021 6:27 am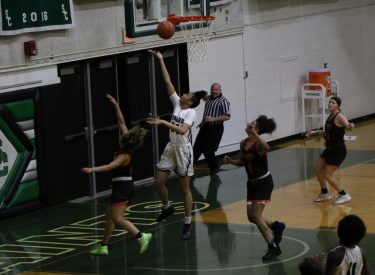 Kenny Hernandez
LIBERAL, Kan. – Seward County Community College defeats Neosho County Community College 124-50 in the first round of the Region VI tournament. The Lady Saints will head to Independence Community College for the second round with game time to be announced. Seward County was paced by a season-high 29 points for Madina Camara as she went 12-20 from the field and 5-10 from downtown.
To start the game the Lady Saints came out to an 11-2 lead and establish their fast-paced style to play. The Panthers could not get their offense established with the Lady Saints' full-court defense able to get turnover to create easy opportunities around the rim. At the end of the first quarter, Seward County held a 33-14 lead.
The second quarter had more balanced scoring from the two teams but the Lady Saints still held their lead. Seward County went into halftime with a 53-31 lead and outscored Neosho in the second quarter 19-17. The Lady Saints shot 42% from the field in the first half and connected on eight threes in the half.
In the third quarter, Seward County took control of the game and out scored Neosho 41-11, and had a 93-42 advantage after a Wiktoria Kazimierowicz three. The Lady Saints connected on 16 threes through three quarters.
The Panthers were unable to get back into the game as Seward County closed out the game and out scored them 31-8 fourth quarter. The Lady Saints shot 45% from the field for the game and 32% from downtown as they had 19 threes for the game.
Seward County also had Sierra Morrow with 21 points in 18 minutes of action and Zhane Thompson had 20 points in their starting roles. Hulda Joaquim had 13 points, six rebounds and Sydney Wetlaufer had 12 points and three rebounds in the win.
The Lady Saints will be on the road on Wednesday to take on Independence. The last time these two teams faced off was back on February 20th with the Lady Saints winning 93-91 over the Pirates. The winner will head to Friends University for the Region VI Semifinals.
https://soundcloud.com/user-538336933/sets/2021-0405-neosho-women-at-sccc