Lady Saints Await Fate After Semifinal Loss
KSCB News - March 7, 2015 7:16 am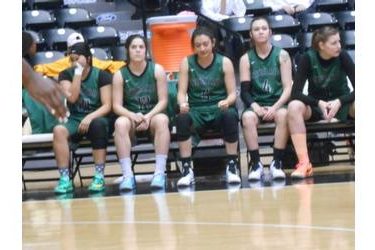 Seward is slumping. The Lady Saints have lost three of their last five after a 78-75 loss to Coffeyville in the semifinals of the Region 6 Tournament Friday afternoon at Koch Arena in Wichita. Coffeyville led a lethargic Seward team by as many as 19 before Seward made a mad dash to the finish line. Seward actually led 75-74 with 48 seconds left after a leaner in the lane by Axelle Bernard. But Coffeyville's Chanel Khammarath hit a baseline jumper to give the Lady Ravens a 76-75 lead with 22 seconds left. Seward got an open three at the other end but shot an air ball that was deflected out of bounds off Seward. But Seward had four fouls to give causing the clock to wind down to 4.7 seconds left after Devin Cosper made two free throws and Seward finally got the ball back. Seward's three point attempt was blocked at the buzzer.
The Lady Ravens led 34-27 at the half and built a lead of 61-42. Coffeyville won the decisive battle on the boards 59-41 with 25 offensive rebounds.
Seward is 27-5 and awaits word from the NJCAA selection committee Sunday to see whether they will receive an at large bid to the NJCAA Tournament. Coffeyville has won 12 straight and 17 of the last 18 to improve to 25-8 and play Hutchinson in Saturday's Region 6 Championship game.