Lady Saints All Over Allen
Brock Kappelmann - December 5, 2018 10:58 pm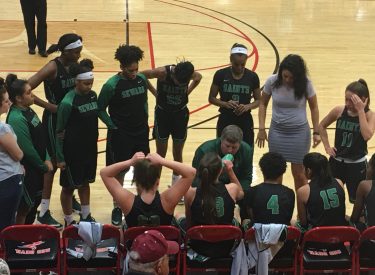 IOLA, Kan. – Six Lady Saints scored in double-figures as the No. 10 Seward County women's basketball team ran away with a road conference win over the Allen Red Devils 103-68.  Seward moves to 8-2 overall and 2-1 in the Jayhawk Conference.
Seward scored the first eight points of the game before Allen was able to get on the board with a pair of free throws.  The Lady Saints quickly pushed their lead to double-digits with a three from the corner from Lexi Hernandez.  It took until the 4:29 mark in the first quarter for the Red Devils to convert a field goal, but once they did, they went on a 6-0 run to make the score 13-8 and force a Seward timeout. Seward held off any further Allen momentum, taking a 22-16 lead into the second quarter.
The Red Devils came out firing in the second quarter, rattling in seven straight to take a 23-22 lead over the Lady Saints, but Kalen Green put Seward back on top with five straight points of her own. After Allen came back to tie it at 27, the Lady Saints ended the quarter on an 15-7 run to take a 42-34 lead into halftime.
The Lady Saints started the second half with a 9-2 run, forcing the Red Devils to use an early timeout. Five straight points by Hernandez coming out of the timeout put Seward up twenty points. Hernandez continued to pour it on for the Lady Saints, scoring 10 points in the third quarter as the Lady Saints took a 77-47.
Seward didn't let up in the fourth quarter, despite the significant lead. Following a Taelor Parker three-pointer from the wing, Vonda Cuamba put the Lady Saints up 40 points with a put-back layup, 94-54. The Lady Saints went on to win the game 103-68, their highest point total of the season and the first time reaching 100 points in the Austin Mefford era.
Seward shot 49 percent (38-of-77) from the floor and 38 percent (10-of-26) from deep.  The Red Devils were held to 40 percent (26-of-65) from the field and 29 percent (5-of-17) from behind the arc.
Seward was led on offense by Lexi Hernandez, dropping a career-high 30 points, including shooting 5-for-7 from behind the arc. Five other Lady Saints reached double-figure points – Aquila Mucubaquire (12), Kalen Green (11), Silvia Veloso (11), Vonda Cuamba (10) and Carla Covane (10).
The Lady Saints will have a week off before heading back to the Greenhouse to take on the Cowley Tigers at 6:00 p.m. on Wednesday, Dec. 12.