Lady Saints Advance with Win Over Butler
KSCB News - March 1, 2016 10:10 pm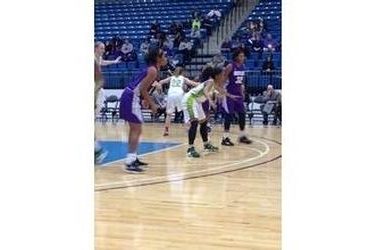 Using a triangle in two defense, Seward held Butler at arm's length in Seward's 77-61 win Tuesday night in the quarterfinals of the Region 6 Tournament in Hartman Arena in Park City. Seward advances to the semis of the Region 6 for a second straight season.
Butler took an 18-17 lead after one before the Lady Saints burst into the halftime lockeroom with a 39-29 lead. The Lady Grizzlies cut the Lady Saint lead to seven twice in the fourth quarter after SC led 53-44 after three. Joanna Grymek had 23 on 10-11 shooting and Daniela Galindo had 18 points and four three pointers. Tiani White added 10 points and seven rebounds. Axelle Bernard had eight points, eight rebounds, six blocks, and six assists.
Seward shot 51 percent from the field and Butler shot 35 percent. Seward made 6-14 three pointers and 13-16 free throws.
24-7 Seward plays Jayhawk Conference champ Hutchinson Wednesday at 3 on 107.5 and kscbnews.net.