Lady Saints Advance in National Tourney
Cheryl Collins - November 21, 2019 11:09 am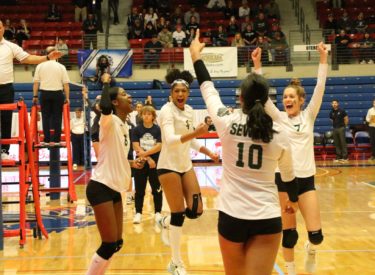 The Saint Volleyball team took the court in the opening match of the 2019 NJCAA Division I National Tournament against Hill College and after a brief scare, they were able to advance after winning in 4 sets. The Lady Saints came out in the first set focused and got out to an early 11-9 lead but the match would go back and forth early. Overall there were 4 lead changes and 8 tied scores in the first set. The Lady Saints would eventually get ahead by 8 points after a back-row attack by Yanlis Feliz and go on to win Set one 25-19.
Set two saw the Lady Saints come out on fire starting the set 7-0 and eventually leading 14-4. The block by the Lady Saints became almost unpenetrable and they cruised to an easy 25-9 victory in Set two. In Set three, the Saints came out early, leading 11-4 and looked well onto their way to another sweep. However, Hill College was not ready and rallied a massive comeback, centered around great defense and Natalie Garcia's attack. After Hill tied the game up at 19 all, they were able to push through and win the third set 25-22 over the Lady Saints.
The fourth set would prove to be the final set, but not after some drama. Hill College continued their momentum from the third set and was able to push the Saints. After five tie scores and 2 lead changes, the teams would be tied at 17. The Lady Saints would find their next gear and take the team home to the finish line, winning set four 25-20.
The Lady Saints were led by Yanlis Feliz with 19 kills. Djuly Schmorantz added another 14 kills to go with 16 digs. Laura De Pra was in the middle of it all with 42 assists.
The Lady Saints advance to play Otero Junior College after they beat Indian Hills 3-2 in a thriller. Otero's three set wins were all by two points and they lost one set 30-32. Game time will be at 5:30pm Central. Go to SewardSaints.com for all tournament action.